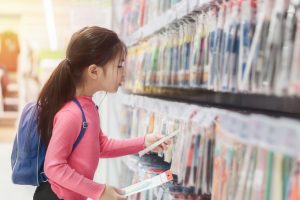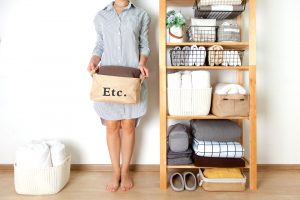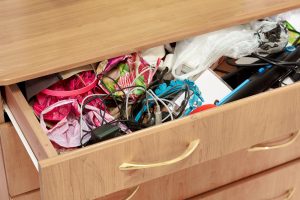 If you are a parent or caretaker, you are more than aware that back-to-school season is here. Now is the time to transition from the relaxing summer days into the busy year that is ahead. During the routine of the school year, it can be challenging to keep your home organized and clutter-free. Luckily, our decluttering experts at Pickups For Breast Cancer put together the best tips to prep and keep your home tidy all year long!
One In, One Out Rule
At the beginning of every school year, there is a lot of shopping involved – new school clothes, books, supplies, etc. We recommend the "One In, One Out Rule." That is, for every new item that comes in the house, an old one must come out. It is an excellent opportunity to do a closet cleanout, evaluate which clothes fit and which ones don't. Also, to clear out those books, school supplies, and toys that have been collecting dust. You can include all of these items in your donation pickup. By doing so, you can also practice an exercise with your child on the importance of recycling and giving back to your community.
Storage Solutions
Items are happier when they have a home. Having organization systems may take some effort to set up, but in the long run, they will help you quickly recognize where items go – making tidying easy and efficient. We recommend labeled drawers, boxes, and filing cabinets for toys, books, documents, and schoolwork. Elizabeth Hamblet, a learning specialist at Columbia University, says that you should involve your children in this process as well:
"Engage your kids in setting the routine (it helps build their planning skills) and encourage them to follow yours or make their own when they get to college to keep chores manageable and stress low."
Go Rogue With the Junk Drawers
We all know the junk drawer. We all have one. When it comes time to tackle it, we recommend going a little rogue and over-cleansing them. In general, drawers and cabinets tend to be more cluttered and become cluttered more quickly; therefore, they need extra attention when it comes time to tidy up. Do not be afraid to get rid of things that you have not used in the past six months in hopes that you will find a use for them in the future. The rule of thumb is clear, if you have not used them in the past half-year, you will not use them in the next half.
These three tips should get you a great head start for your back-to-school decluttering. Above all, focus on detaching from the things that no longer serve you a purpose and invest in designated spaces. Remember that when it comes time to donate your unwanted items, Pickups For Breast Cancer is always available for a home pickup. You can schedule a donation pickup online or by calling 1-888-492-4483.
Your donations support breast cancer research, education, advocacy, living expense and mammogram programs. Each year through our thrift store relationships, we recycle tons of items that are re-used. We thank you for being an ally in the fight against breast cancer!